Hiking New Zealand - Stewart Island's northwest circuit

Crossing the Foveaux Strait to Stewart Island
We got up at 7:30 after sleeping in the car at Bluff, which was comfortable and warm despite the wind buffeting and rocking the car and rain lashing down all night, and drove round the corner to the ferry terminal ticket hall. We bought open returns for NZ$84 each and packed for the next 10 nights and 11 days of tramping.
Food:

3Kg of Couscous mixed with 1.4Kg of Tofu powder, some herbs, some chili, some sunflower seeds, cashews and white pepper
4x750g loaves of bread
2x375g jars of peanut butter
2.25Kg of Muesli
500g Margarine
750g of Tofu Luncheon Sausage (not advisable, blurg)
Gear:

1 pair Vegi hiking boots
2 pairs synthetic socks
1 pair polyprop leggings
1 pair gaiters
1 gore-tex jacket
2 pairs of poly trousers
first aid kit
pen knife
sleeping bag
roll mat
2 pairs gloves (1 thin polyprop, 1 thick wool)
1 polyprop balaclava
1 thinsulate hat
2 fleeces (one long sleeved, one short)
1 cotton t-shirt (intended 2 poly but didn`t buy them and then forgot a 2nd shirt anyhow...)
1 camping towel
1 bar soap
toothbrush & paste
camping stove, pans & utensils.
I felt prepared for the hiking, but was still concerned there was not enough food in my bag. Dana had lots of decidedly un-vegan stuff that also weighed a ton, our packs were full to the point of stuff hanging on the outside.
After loading our gear into the transportation crates we got on the catamaran for the legendary crossing to Stewart Island. As we set off the captain announced "it`s a bit lumpy out today". Undeterred, I ate sandwiches as we pulled out, and managed to get 1½ down my neck, then we rounded a corner and it started. Suddenly I didn't feel so hungry and the horizon wouldn't stay in view, 3 people started throwing up in the cabin and I developed a cold sweat. The need for fresh air took over and I headed for the back of the boat, past the vomiting passengers. I felt a lot better at the back as the ship lurched, jumped and rolled - it crawled for some parts as the waves crashed over the back - and I got to see albatross and mollymawks. I seem to have carried it off; even Dana thought I went to the back for the view, all lies I assure you, I would have been number 4! An hour later we arrived at Oban and the poor guy that had kept his head in a bag for the entire journey dared to look up again.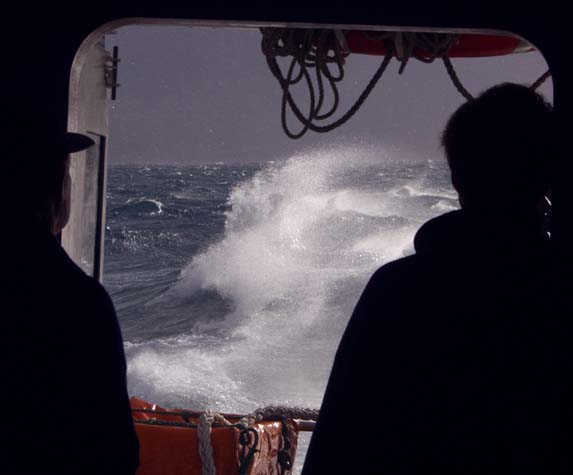 We stopped into the ferry office to get some lunch down before heading out to the first hut, I managed some but it took a little longer before I could really eat again. Our next call was to the Stewart Island DoC office to record our intentions - we planned for 11 days, the rescue services would then start looking for us in 14 if we didn't let them know we had made it back. It seemed that it would give us enough time to go around and some space for the unexpected. We set off up the hill to the track, just as we left the tarmac we passed the most miserable guy either of us had seen in NZ, all he would say was `muddy` before he trudged grimly out to civilization. Next we passed an astoundingly happy lass 100 metres further on (suspect there was a story in there somewhere), she`d been round and found it a struggle until some hunters cut her a stick to help with the mud and the hills, she passed it on to Dana and the hapless stick started its second circuit.
The walk was mainly on boardwalk and took us 5½ hours, we took it easy and stopped lots. It hailed 3 times, rained loads and was periodically sunny, there was a definite bite in the air that Christchurch didn`t have, we spent lots of time adding and removing items of clothing. My first use of gaiters was a huge success, I love them, the walk was beautiful.
We shared the hut (North Arm Hut) with a couple from Sweden and the US doing the 3 day Raikura track, uneventful night, crashed early planning for our first day of the real walk tomorrow.
North Arm Hut to Freshwater Landing Hut
We set off from North Arm at around 10:30 for the 6 hour walk to the Freshwater Landing Hut. The day started with 45 minutes of boardwalk, after that it went into a pretty muddy downhill but the sun was out and I had an enormous grin on my face - just happy to be there. The beautiful walk continued but became increasingly muddy, finding routes around a lot of it was pretty essential and it rained more as the day went on. Before we knew it, it was 4:00 and we had just crossed the swing bridge that marks the half way point, we had 2½ hours of light to complete a walk that should be 3 hours long when the other half had taken us 6 hours. A light prickle of fear set in. By the time we had made the next major climb it was 5:30 and getting dark, the tree cover in the area is pretty thick. We continued on and walked for 4 hours by Braille as my torch bulb had broken the previous night: we only had Dana's to hike by. There was still no sign of the hut but we had been on some more boardwalk on the `plateau` at the top of a hill. At some point I fell and landed heavily in mud, Dana then fell twice, the second of which terminated the endless `what shall we do` conversation, we decided to stop for the night before one of us broke something. We slowed and looked for a flat, preferably-not-too-muddy-with-some-cover section to settle into. We found one after just a few minutes and settled down for the night with sleeping pads and the 4` pack liners for cover. A storm raged around the hill we were on, the trees moving wildly around us; it hailed twice during the night, and when it rained the pack liners started to fill with water. Dana knocked her pack off the section we were on and back into the track/mud river, it rolled downward but she managed to haul it onto the side further down the hill. By the time the sun came up enough for the path to be visible under the tree cover it was 8:00 am and we had been shivering and keeping each other awake for around 10 hours, we could hardly walk!
North Arm Hut to Freshwater Landing Hut pt II
After our night of misery we struggled up and set off at 8:00, as stiff and aching as we deserved after the previous night.
Certain that the hut must be near now, maybe an hour - 2 tops - we looked forward to getting a fire going and getting some food down. At 11:00 we discussed what to do, there was no way we could go back, that would guarantee another night outside, we had to go on to the hut. The easiest part of the day was 30 consecutive paces over tree roots, the rest was deep thick mud, sharp climbs and rapid descents. We crossed 3 unbridged rivers: 1st on a log; 2nd I made on a broken log and scrambled through bush, Dana forded it despite the sharp banks; 3rd we both had to ford - there were no stones less than thigh deep and no logs, the only `reasonable` exit on the other side was to haul ourselves up the bank on an overhanging branch, not easy with packs so full of food in cold, thigh deep, rushing water. We crossed several more streams and finally made the hut at 1:00. It was empty of people but in a great location next to a river. The only worrying sign was the one that said if the river rises rapidly we should head for high ground... We got a fire going, sorted some food and started laughing again, it had been a damn tough couple of days but we were still smiling and feeling okay. We made the decision that there was no way we were going back through that, the next day DoC promised us a 4 hour walk to the Mason`s Bay Hut. At current DoC:Andy-Dana time we estimated that should take us around 10 hours, by getting up and out early we expected there would be enough hours in the day.
Later on an older couple, Margaret and George (yes, seriously) arrived. They had come from the next hut around (Mason`s Bay Hut) after being dropped off by water taxi, and planned to be picked up again the next day. They reported the route to be 1 hour of river, varying in depth from knee to thigh with some boardwalk, followed by stunning moorland and a beautiful beach at the end. It had taken them 4 hours, but we had to head upstream - we started to wonder why we were doing this clockwise instead of anti-clockwise like the DoC guide and everyone else does. The hills were harder because we had to climb the side that everyone else had slid down, the steps were trashed on the way up but easy on the way down.
We were unable to stay awake after 5:30 so we crashed out. My sleeping bag was wet from the night out despite staying in my pack but it warmed up nicely once I was in it.
Freshwater Landing Hut to Mason Bay Hut
Trying to make an early start but failing we rose at 7:30, cooked, packed and got going at 10:00. Crossing the swing bridge next to the hut, the river had risen overnight and the landing on the other side had disappeared beneath feet of water, all that remained was the sign that said DoC is not responsible for maintaining it - seemed a little academic.
We hiked up river for 2 hours, the depth did indeed vary from knee to hip, as Margaret and George had promised - but was also much deeper on the occasional missed footing. The current, however, was stronger than suggested, I guess people don`t notice so much when they`re going down it. The 5` stick I had cut the previous day (courtesy of my brother in law Dan`s penknife) was worth its weight in gold and saved me from numerous drop-offs in the track/river bed. The water was heavily tannined and once it got over 1` or so deep the bottom became invisible.
We stopped off for lunch on some higher ground and were visited by a couple of bellbirds singing a happy tune, they flew off after a while, probably taking a lunch break themselves, and were replaced by another couple. The two stand-ins only had a single note between them and thankfully they soon headed off - probably upset by our apparent lack of joy at their efforts - then the originals then returned!
This had been a great day thus far, very little mud, very little rain and lots of fond memories of playing in floods near my parents' home as a child.
Once the whole river thing was done (about 2½ hours in total) the highlight of the day and tramp so far opened up. Amazingly bleak moorland (something I have a real affection for) crossed by a raised boardwalk, crazy gusts of wind ripped across the valley, and the only way to avoid being shoved into the water was to stop and wait for it to pass. After 1-2 hours we climbed a sand dune and arrived at an old homestead and farm, complete with ancient and rusted tractor (saw a pipit). We passed a DoC building and went on to the hut.
Cleaned gear, me make fire (ug), ate, chatted, crashed. Best day of the hike so far and possibly of the whole NZ trip...
Mason Bay Hut to Little Hellfire Bivy
We rose at 6:00 and set off quickly, the hike to Hellfire Hut is a long one. The sunrise over the hills around Mason`s Bay was stunning and brought a rainbow on an orange background. Mason Bay has unspoilt beach for miles and was utterly private. This was the first sense of isolation and the feeling of the lack of other humans in any direction, the space was wonderful. It felt a little like standing on the edge of the known world, looking out into the vast, spreading ocean.
The path crossed a river running down the beach and then headed north. Soon we found a mutton bird struggling for life, Dana carried it to the low hill running along the back of the beach and created a nest for it to heal/expire in. She did the same for the second.
I started to twitch, it's not that I don't like seabirds or want to help them but we'd already had one night out on Stewart Island, I didn't really want to experience another. Each bird took 10 minutes - we had a 7 hour hike (according to DoC) to cover - and there were dead and dying birds along the beach as far as the eye could see. There were battered, stumbling and drowning birds unable to fly or even float, either being beaten by surf or too far gone to struggle out, we thought that 1080, a poison used to keep down possums and other unwelcome mammals, may have had a hand in their suffering. With few exceptions the birds were all mutton birds and our suspicions turned out to be entirely wrong. Mutton birds are abandoned by their parents 2 weeks before their first flight. The birds were the natural victims of bad weather and the lifecycle of their species, they were handed a bad time for setting out into the world.
As we trudged along the beach the tide started to come up and we had to dodge onto rocks - more mutton birds were clinging to life amongst the rocks, they scrambled aside as we approached and added broken wings to their lists of pain. We tried as well as we could to avoid going near where we could see them, but there were too many, we just couldn't see them all between the rocks.
Once off the beach the mud was light but as we started to climb it increased in depth. At the top of the hill we stopped to eat feeling a little shot and numb from the experience of the beach. Starting down the hill we were reminded again of why people walk anti-clockwise, the hill was great to walk down, nice easy steps, but it had been a tough slog up. On reaching the next beach at 12:30 Dana was convinced we would be spending the night out again, I thought we could still make it. Ahead on the beach, a group of hunters were waiting for their charter plane out. We stopped for a quick chat with them and walked on before stopping after 20 yards
and going back to ask them to change our 'out date' - we had already lost 1 of our 3 buffer days before the search party would come for us and a rest day would be very welcome. Chatting with them some more it turned out that there was a bivy about ½ km away where they had left some basic food. I planned to collect it on the way to the hut, then Dana pointed out that `it`s a bivy`.
I rapidly altered my plan to account for this and we stopped over at `Little Hellfire Bivy`. Dropping our bags we headed off to check it out - 2 mattresses, 6`+ high roof, waterproof, BBQ, spuds, flour, oil n stuff, firewood...hehe. We went back to collect our gear and see their plane land on the short beach surrounded by hills and with rocks in the middle, still, at least it was low tide... We profusely thanked the hunters (they had also left food at the next hut :) and waved them off. Their trip organiser lives in Wellington and gave us his address in case we were in the area (we planned to be in 2-3 weeks) so that we had somewhere to stay¹.
Returned to the bivy for a fleece, made fire (ug again), collected wood, cooked (some kind of egg-less, milk-less pancake with a side serving of boiled potatoes, kind of yum...) and hung the food up to stop the local rats getting fatter.
The stress, grief and threat of not making a hut had been lifted, after 5 hours of walking we had beds and could relax for the afternoon. On top of the world.
¹ This must be the biggest difference between the UK and NZ, the sheer friendliness of the people - he`s not just saying `stop by` he actually means it. I have his address, landline and mobile - it`s fantastic. Almost every shop you go into you get greeted with a `hi, how`s it going?`, and they actually want to talk as well. back
Apteryx australis!!!
(Little Hellfire Bivy to Hellfire Pass Hut)
I watched stars in bed from midnight until 7am - a very poor night`s sleep, but luckily I had had 5 hours by the time midnight came around. The bivy was warm and kept the howling wind outside. At 7:00ish, we made a fire, collected wood and started to cook. It started to rain.
We left at 10:40 - pancakes take a very long time on a driftwood BBQ.
The track was a lot less muddy than the day before and we climbed for 2 hours whilst grinning like fools, patches of blue came and went from the sky. Suddenly at 12:00 we spotted a Kiwi poking around in the dirt, it didn't seem to notice us and we watched it, frozen, hardly daring to breathe, for 10 minutes as it tracked food and wandered before it headed off into bush. We'd read that Stewart Island Kiwis weren't all nocturnal but midday still seemed to be pushing it somehow. Following the undulating track for another 1 ½ hours brought us around another tree to see another Kiwi - it spotted our noisy arrival and leapt sideways, we froze and stood silent. Kiwis have great eyesight but apparently no memory at all, it seemed to almost instantly forget we were there and went on about its business - poking into the ground and searching through leaves. Then it turned and headed towards us, walking directly between us - a gap of about 3 feet - it didn't even give us a reasonable berth, it brushed against my leg like a cat as it went! It then took its leave and went bush.
Arrived at the hut at 3:00, Dana made a fire and I cleaned stuff (including myself). The hut was empty apart from us and remained so for the night. We planned a rest day for the next day, the night out had taken it`s toll.

Hellfire Pass Hut rest day
I stayed in bed until the urge to pee was way too much - roughly 1 minute after Dana got up for the same reason, somehow knowing that someone else is peeing makes it that much tougher to not do the same. I went for a wander after breakfast to get some wood while Dana made the fire and did some botany. I headed out a little way on the route to Waituna Bay (the walk for tomorrow) and saw kiwi, possum and deer tracks in the sand - hopefully they arrived at different times... Then I returned to chop some more firewood - Southern Rata is tough to cut but if you go with the grain it splits, logs are extremely tough to make with an axe though and I settled for woodchips instead.
Not much happened on our day of rest. So to save endless sentences of 'and then I cut wood while Dana botanised' I'll cut it short: I cut wood, Dana botanised, we ate some stuff, burnt some stuff and slept.
Hellfire Pass Hut to East Ruggedy Hut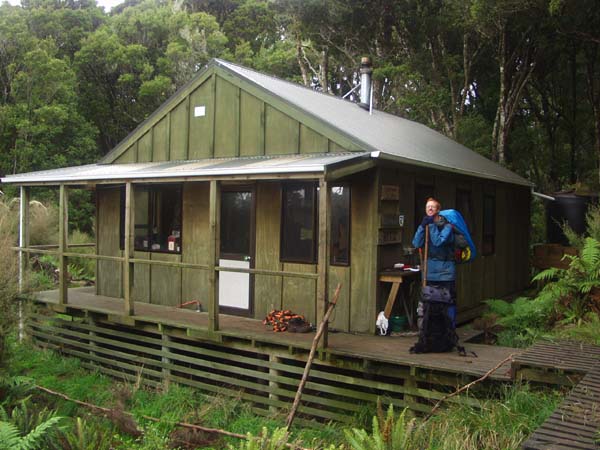 Rested from our day off we rose at 5:00ish and left the hut at first light. The path was thankfully not too muddy and the reported first 40 minutes of hell as recorded by trampers in the hut book turned out to be nothing special - I pity the people that thought this was bad, they have no idea what they`re in for. The track runs past a lookout with great views of granite hills/mountains, then down to and along the beach, over dunes with a fierce wind that literally pushed us up the slope. The walk to the hut was 1 hour from there, but we thought it was minutes and collected wood en route, I dumped mine after about 20 minutes but Dana carried hers all the way.
The hut had 6 hunters in it that had an inferno going in the stove (everything dried overnight!) the windows were open and it was still warm. They had lights, loads of food and pikelets, however, they`d only managed 2 deer in 10 days...
After settling in for a while a fellow tramper turned up, we later named him 'Auckland the Over-Achieving Tramper' or `Auckland` for short. He had been walking 2 huts per day up to this point (ie skipping one) and had all the lightweight equipment you could want, including a whisk for latte plus cinnamon, popcorn and angel delight. He was totally mystified by our desire to take it easy and stop for some views on the way being on a mission to get round in 6 days so he can head off for something near Mount Cook and then another outing somewhere else. He seemed convinced that moving faster meant seeing more - seems to me that if that's true a car or plane would be best, and hiking a definite no-no.
Later we discovered why Aucklanders are called Jafa by the rest of the country, it represents a certain antipathy felt towards those from the Kiwi capital - Just Another F**king Aucklander. We crashed out at 8:00ish and boiled the night away on top bunks, the hunters were determined to have a sweat lodge on their holiday!

East Ruggedy Hut to Long Harry Hut
The hunters were up at 6:30ish and we joined them for an early brekkie, Auckland was crashed out on the dining bench fast asleep - he'd been way too hot on the top bunk. Blearily he opened an eye to be met with `you`re not a morning person are ya Auckland` from a hunter, the round of laughter that followed clearly did little to brighten his day!
We set of at 9:00ish, Dana left her hat behind in the hut and realised after a short walk, I went back and collected it. The start of the day was a shallow river crossing, but it all seemed to be quicksand, we scouted up and down river looking for a crossing but failing. Luckily we were spotted by one of the hunters who hiked down to us and said `if you run across you'll be fine`.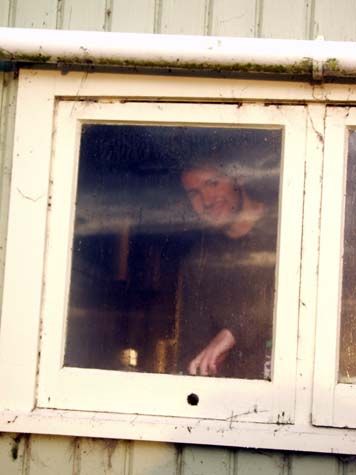 A little concerned but having little option we went for it, I lost a foot part way across and sunk in sand to my knee, otherwise it was indeed `all fine`. The track crossed rocky beach, sadly there were no seals and arrived early for once. It was empty on arrival so I took the opportunity to get a `shower` with the hut bucket and clean my hair.
It started filling up afterwards - Tamsin, from UK and returning soon, on her last NZ adventure after working here for 5 years, resident in Wellington; `Kiwi` - a local guy nonchalantly going around the circuit in 4-6 days to warm up for some other adventure in Australia (damn these locals are tough...); Five-Year, UK guy who`s been traveling all
over the world for five years. Kiwi is a nice guy and I started hoping he'd overtake Auckland on the way round*, unlike the Aucklander he had no attitude about how fast he was going, it was just something he was doing.
The beach and cliffs around the hut are a penguin colony and in the afternoon they return to their base, swimming into the bay and then hopping and walking their way up the beach and cliff paths. We went to watch them come in from the cliff overlooking the beach, they all arrived in pairs. Then we spotted one that had been hanging around in the sea for a while, it eventually came in, looked around, shook itself off, squawked some, looked some more and then squawked back out to sea. Hoping its mate was safe and would return soon, we headed off for food, a chat and sleep.
*Kiwi did indeed catch Auckland, although it was gratifying to see that they slowed down dramatically on the other side of the island - no more skipping huts!
Long Harry Hut to Yankee River Hut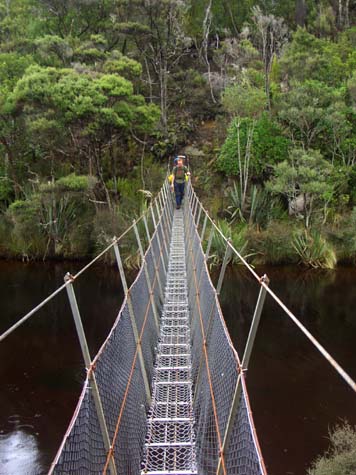 We were up at 6:30 and woke our roomies getting breakfast. On raiding the food left by hunters and I discovered I had spuds and bread to eat.
At 7:30 we headed off amid complaints that I snore very loudly, surely not, must be a recent thing..? Stewart Island rewarded our early start with a stunning sunrise followed by a very bouncy day - up and down five gullies before half the day was through. Crossing a beach we stopped for a swim - we only got in waist deep before realizing that the waves were _way_ bigger than they looked, it was extremely rocky and _very_ cold (swimming on Stewart Island, dear god...). Then it got grim, sandflies are assuredly the work of the devil.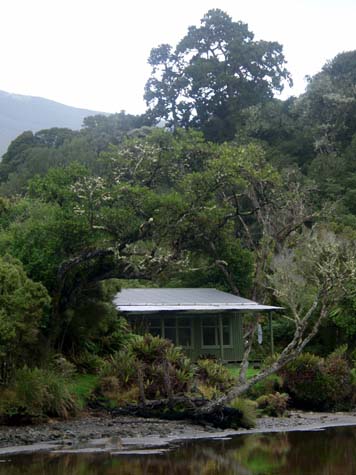 The standard New Zealand story goes that when the gods made the place they realized they had made it too beautiful, that heaven on earth now truly existed, that`s why they created sandflies - so people could come and visit, but wouldn't stay. Swarms of them were over us and our clothes and made the next 30 minutes a maddening and miserable experience, running nude on a beach is just fine, but they turned up and suddenly it was a forced run. I eventually managed to get dry enough to get my clothes on and stomped to the far end of the beach, hoping to get some peace to pull my boots on. As if. Exiting the beach, we headed up over a 600m hill and crossed a swing bridge to arrive a truly picturesque hut. There were sandflies waiting outside...
We shared the tidal estuary hut with a Czech couple, they weren't very talkative as while the woman spoke English, the man unfortunately knew as much English as we do Czech. We washed our kit, I ate so much I felt sick (wonderful :) , fed the fire and slept.
Yankee River Hut to Christmas Village Hut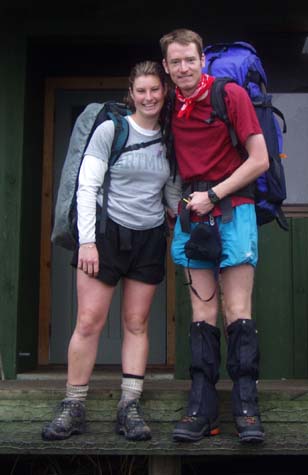 Finally we started the day and got up at 7:30 after 1½ hours of laughing in bed. Somehow we then spent 2½ hours doing god knows what and left the hut at 10. It was another bouncy day of crossing gullies, small rivers and streams. For lunch we stopped on a beautiful beach after 4 hours, the going had been really easy. Over lunch Dana spotted red parakeets - I didn't. However, I did accurately identify Metrosideros diffusa (Myrtaceae) which has got to be worth some serious brownie points. Lots of Tui, bellbirds and, finally, some more parakeets. It sounded like a tropical rainforest and we took lots of opportunities to stop and listen - so many in fact that I got concerned we may not make it to the hut as we'd slacked so much, we made it at 5:00 without too much drama. It was in another great location, right on the beach with a sunset so garish and beautiful that it looked like a cheap oil painting. Shared the hut with a `Kiwi spotting` couple - Andy (English guy) and Jamie (US lass). Cleaned, ate, slept. A fantastic day of bird life and easy walking.
Christmas Village Hut rest day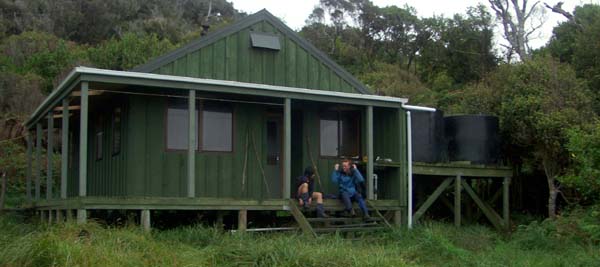 We decided to take another rest day and had a quiet brekkie with Jamie and Andy. I'd decided to climb up Mount Anglem / Hanahui, the highest point on the island as had Andy and Jamie - Dana was doing some botany. Mount Anglem has a 360° view of the island although the track has a warning that it is muddy - which in DoC terms means 'bring a means of excavation'. Reading the hut book, views varied from `complete bullshit` to `well worth the effort`. The route is 3 hours each way so I had time to make up my own mind.
`Complete bullshit` it was. It was hell, absolute misery, do not even consider doing this unless you like to be depressed and angry. It was just North Arm-Freshwater revisited; very steep, continual rain, windy and cold. To make it worse, so many trees had fallen since the track was marked that it was very difficult to follow. I climbed for 2½ hours and got to within sight of the top before the sheer misery of the whole thing got to me - really I was only going up for the view and I couldn't see shit. ENOUGH, I turned around and started the descent through knee deep mud, down steep root steps, and through the running stream of mud that they call a path. I passed Jamie and Andy on their way up after about 30 minutes. Andy made it to the top and reported horizontal rain and no visibility, I don`t feel in the slightest bit bad about not making it.
By the time I returned to the hut my mood had soured to monumental proportions. I attempted to chop to some wood but the axe was so badly made that every 2 chops the head had to be repositioned. I quit chopping wood and moaned to Dana about the state of the world, which made me feel a lot better.
Jamie and Andy returned later, cold and not too happy.
Not much of a rest day, but hey :)
Christmas Village Hut to Bungaree Hut
Despite getting up first we left the hut last. Laurie was off to Bungaree (we might catch up with her later), Jamie and Andy were off the other way. The walking was easy, with decent length boardwalk over the mud, a lot of it was easy packed ground and some was beach. Only the final section involved short steep climbs and was a bit muddy.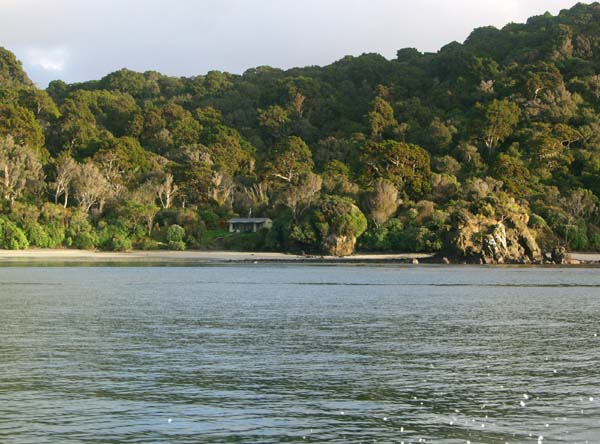 We found two light bulbs on the beach and I hiked them in my hand to the hut (didn`t want to put them in my bag in case they broke...not sure of the logic in that decision). The trail passed an old tram engine sinking into the mud now that it`s no longer required, farming stopped on this island a while back. The path then crossed a swing bridge surrounded by sand flies and bounced up and down gullies. We arrived at the empty hut around 4:00 feeling knackered. I washed our kit (more sandflies) and 2 geologists, Andy and Scott, arrived. They`d been mapping the centre of the island, working initially from desperately inaccurate old maps. It sounded as if the first mapping involved a lot of guesswork at where rivers and gorges were. Basically, they had been bushwhacking through leatherwood in the rain shadow of Mount Anglem and sleeping in a damp 2 man tent for 3 weeks. It seemed to have affected them in different ways - one was happy as larry and the other was utterly miserable, but then he had fallen down a 10 metre crevice, saved only by the tree that had beaten him to it. The other had spent 10 months on the island over the course of 10 years and seemed quite happy there. Two more geologists, Andy and Abi, followed by Doom (a hunter named Peter, originally from Pembrokeshire, but had lived in NZ for 26 years). Doom kindly offered us a lift in his boat to Port William in the morning - the next hut round and only 4 hours from the town. We had planned to get up early and clear the final 7 hour walk in one block, skipping the hut, but the chance to see the island from the sea was too tempting to pass up and we slept looking forward to our ride out.
Bungaree Hut to Port William Hut to Oban to Bluff to Dunedin
I awoke at 6:00ish to find that Dana had changed her mind and wanted to walk instead of taking the boat - I rejected this immediately. I was willing to walk one hut and take the time to see more and enjoy the views or we would get the boat. I was not about to walk 7 hours on a mission to catch the ferry and failed to see the point of doing it that way. We agreed on walking to Port William Hut - I stayed in bed some more but eventually got up and cooked surprisingly good egg-less pancakes - remember that if you ever want to make geologists jealous, hehe.
After more discussion we changed our plans again and decided to leave the hut in Doom`s boat which had now blown a fuse - if it cut out we'd have to paddle to shore, climb the cliffs and hike. We had a paddle between 3 of us so it should have been fine, the water was very calm and what little breeze there was blew inland.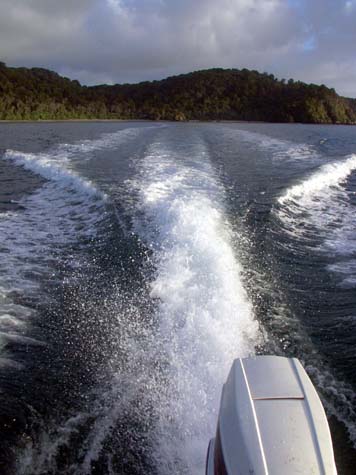 Slowly and uneventfully we got to Port William Hut, taking in great views of the Stewart Island coastline. Laurie was there when we arrived and was about to set off on the final 4 hour stretch to catch the ferry, she was definitely walking the whole way. We were then offered a further lift to town in another hunter`s larger, better wired, boat.
A short ride later we were dropped off on the same jetty the ferry goes from and had 3 hours to check into the DoC office and wander the bright lights of Oban - a sprawling metropolis of over 300 people. We stopped in the ferry office to fix our open returns and found out that we were missing! The search was due to start that evening! Hurriedly we headed off to the DoC office to let them know that we had made it - neither the pilot nor Auckland had changed our `out date` for us, it was lucky that we made it for the original `start looking for us` date.
In our remaining time I decided to fix up 4 of my 5 recent cravings; I got coffee - it tasted like vending machine stuff, blurg; had a pint - uninteresting; got chips - too greasy; bought apples - YUM, fantastic, I had really missed fresh food on the way round, incredible taste! Weird to think that that did it for me though, I really thought it would be one of the others.
Then came the ferry. After the last ferry journey I was not looking forward to it. Thankfully it was very peaceful and nothing like the way out at all.
Once back on the `mainland` we drove up to Dunedin and stay at the Penguin Backpackers with its cartoons on the walls and table tennis. It was very messy and fairly busy. Got food, showers, cooked, read, told smokers in no-smoking area not to - amazingly they stopped - later went to bed.
We had our own dorm room of 8 beds - all sagging badly so we pulled some mattresses onto floor, whacked up the heater and slept.
Stewart Island was a great experience: the Kiwi birds, the penguins, the stunning isolated coastlines, the sounds of the rainforest, the people on the way round and the unspoiled interior. Despite all of that I was relieved to go to bed knowing that I would not be walking the next day.
Further reading and information:
Stewart Island route map and information - http://www.stewartisland.co.nz/Attractions/Circuit_tracks.htm