| | | |
| --- | --- | --- |
| | Section 4: Click on the "i"s above for information and photos of the route. | |
n. Inca Wasi - The house of the Inca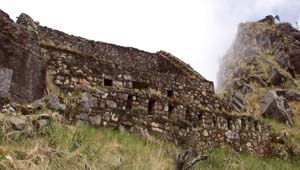 The jewel of Puncuyoc, and once thought to be an isolated structure, Inca Wasi's second story and incredible level of preservation makes it a rarety among Inca ruins. It has been proposed that Inca Wasi was an important oracle to the sun, earth and various sacred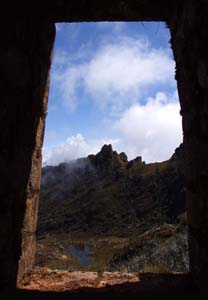 boulders in the area. Sayri Tupac Inca consulted an oracle to decide whether to accept the Spanish offer of peacefully leaving Vilcabamba and living back in Cuzco, Puncuyoc might contain that oracle. While the oracle had given negative answers to that question in previous askings, this time it said yes, and he moved back to his beloved Cuzco, leaving his brother behind to rule Incan Vilcabamba. What exactly does it mean to ask an oracle?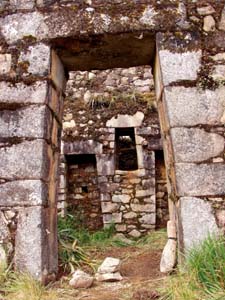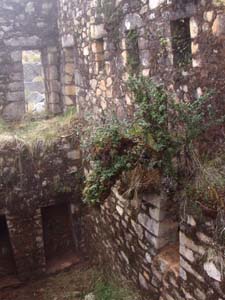 This is unknown. Perhaps it has to do with the weather. If the weather shines bright and blue on an expedition the locals say that the gods are smiling on the progress of that group of people, and likewise, if it pours and is cloudy and miserable, then perhaps the expedition doesn't have proper approval. If the weather is considered as approval in modern times, then perhaps it would follow that weather could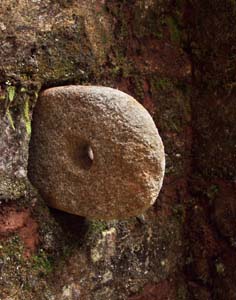 play a similar role in the oracle. Puncuyoc is usually covered in clouds, even when the rest of the region is clear. If the clouds part while visiting Inca Wasi, then the large pillar of rock on the western side of the valley reflects in the pond. There are a number of varieties to this view - nothing at all, a view of only the pond but no reflection, a view of the pond and a reflection but no direct view of the pillar, and finally a view of both the pillar and a reflection in the pond. Perhaps these different views held different meanings. Perhaps they just add to the beauty of the area. We may never know.
There are some interesting artifacts to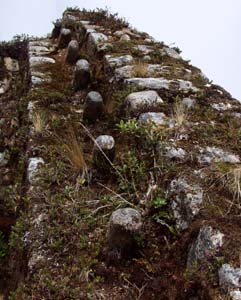 view while at Inca Wasi. On the patio wall in front of the main door, if one looks closely, a grinding stone was used or made in one of the top stones - was this once used for ceremonies and preperations? There was only one intact eyebonder left in inside the lower story when we visited in May 2004. However, the roofline holds a complete set of inset eyebonders.
There are a number of foundations and viewing platforms in the area. They are best enjoyed with Vincent Lee's maps in either 'Forgotten Vilcabamba' or 'Chunasaya - The ruins of Inca Vilcabamba' for a lighter option available for purchase at the Cobos' hospedaje, Sixpac Manco.