All Routes
Inca Wasi
Appendix
| | | |
| --- | --- | --- |
| | Section 1: Click on the "i"s above for information and photos of the route. | |
b. Historically important Pucyura to Lucma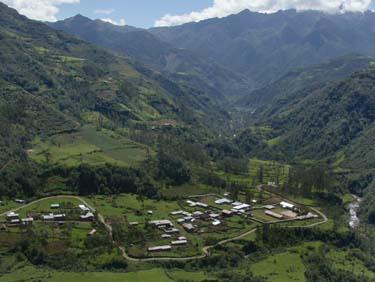 Pucyura is only thirty minutes walk from Huancacalle along the steep main road. Once through the first straight bit of town, the main road takes a gentle route winding back and forth through the lower portion of the town. Pedestrians, however, tend to follow the trails and small roads straight down the valley through the rest of the town. After rejoining the main road, it is another hour and twenty minutes mostly downhill walk (some uphill) to the next town - Lucma.
This is the place where Titu Cusi Inca allowed Padre Marcus García to run the first Christian mission in Incan Vilcabamba under close watch from atop Rosaspata at Vitcos (the view from Vitcos is seen in the picture on the left.) Padre Diego Ortiz came to serve under García for a short while before being granted permission to set up another mission near Vilcabamba the old. In 1570 some of the parishioners are said to have come to the two spaniards asking them to destroy the nearby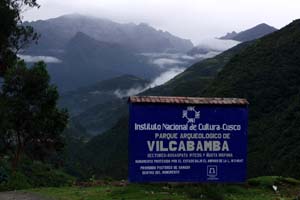 site of Yurac Rumi, saying that a devil lived in the sacred boulder. Together, they burned the sun temple, and destroyed the buildings of the area, a move that brought an end to the missions in the form of banishment for García. Ortiz was later charged with poisoning Titu Cusi when the Inca died, and was cruelly put to death at a place that now holds the name "he would not die." To prevent the news of these two important deaths from reaching the ruling spaniards in Cusco, a group of peaceful spanish visitors were massacred and only one escaped with the news. This massacre then set the Spanish to decide to send an army to invade Vilcabamba and capture the Inca, which they did, and thus ended the exiled Incan empire.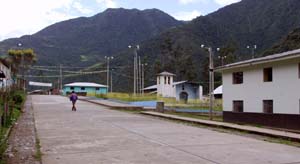 While this town is full of important history, there is relatively little to actually see today. Although there is reportedly a reconstruction of García's mission opposite the police station. (Forgotten Vilcabamba, pg 305)