All Routes
Inca Wasi
Appendix
| | | |
| --- | --- | --- |
| | Section 1: Click on the "i"s above for information and photos of the route. | |
a. Huancacalle and the Sixpac Manco Hospedaje to Pucyura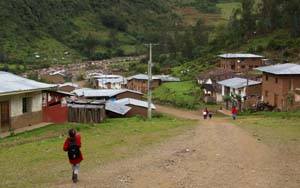 Buses drop passengers off at the top of the hill in Huancacalle on the main street. From there, walk down to the bottom of the hill near the river to reach Sixpac Manco Hospedaje
, or alternatively stay at one of the two cheaper hostels near the top of the hill (missing out on hot showers, electrical sockets and Cobos hospitality).
Beginning the walk to Puncuyoc, follow the road back down the main Vilcabamba valley towards Pucyura (thirty minutes away) and Yupanca (two to three hours).
Sites around Huancacalle: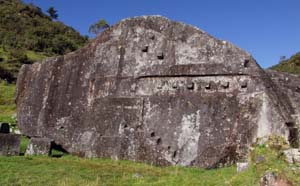 Within a hour's walk of Huancacalle are the sites of Rosaspata - Vitcos and Yurac Rumi ( also called White Rock, Ñusta Ispanan and Ñusta Hispana). From the Sixpac Manco Hospedaje, cross the rivers passing the cemetery and signs to the loop walk. Once across the tributary, follow the lower path to the left to avoid accidently heading off along the Incan road to Santa Teresa, 37 km away as the crow flies. Minimum time for the walk is around two hours, but allow much more time to actually stop and see the site; ½ to a full day is a good duration - a copy of Forgotten Vilcabamba or Chunasaya - The ruins of Inca Vilcabamba adds to the fun of exploration, as it is possible to see many more ruins by following the maps than are easily spotted without them.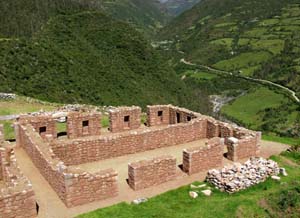 For more photos of these sites see the main Peru photos section.