Books
Accommodation
Products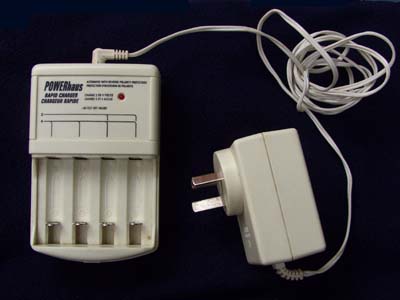 | | |
| --- | --- |
| Product: | Battery charger (AA & AAA) |
| Brand: | POWERhaus |
| Model: | Rapid Charger PC-81-1 |
| Units tested: | 1 |
| Life span: | Still in use - purchased March 2002 |
| Rating: | 5/5 |
Favourite features of the POWERhaus rapid charger
Fast - charges fully in 20-40 mins (battery size dependent)
Automatically stops when charged
Red LED to alert when the unit is and is not charging
Can charge 2 or 4 batteries at a time
AA or AAA ( camera, GPS or headlamp batteries )
Main unit very durable - the unit pictured above has been cycled around Australia, SE Asia, and Western Europe, as well as hiked and bussed through South America before this photo was taken.
Disliked features of the POWERhaus rapid charger
2 to 4 manual switch is often accidentally set to 2 when wanting 4
Other features
Reverse polarity protection
Comes with AC power adaptor for voltage and plug type of area

Power adapter spec's
Model
PI-41-525SA
Input
AC240V 50Hz
Output
AC12V 800mA
APP.NO.V257
Made in China by Pantene

Charger specifics

Specifications of charger
Input
AC12V 800mA
Output
"AA" DC 900mA
"AAA" DC 900mA

We have only used AA sized Ni-MH batteries with this charger: 1300mAh, 1700mAh, 2100mAh and 2300mAh
Wear
Clear plastic cover over the batteries was cracked and then shattered while hiking, however it is not needed for the functioning of this product.
Tested unit information
Individual test unit information
Purchase Date
1st March 2002
Vendor
Camera House Colombo, Christchurch, New Zealand
www.camerahouse.co.nz
+64-(0)3-377-0745
Use time
Every day to once a week over lifespan
Lifespan
March 2002 - Still in use
Rating
5/5
Reason for rating
The POWERhaus rapid charger has never failed us. It has been used in areas of variable electrical situations such as small scale hydroelectricity in rural Peru, unreliable SE Asian general power and reliable European mains. The Ni-MH batteries have also lasted for years, though they have been charged daily to weekly, making us confident in the charger's ability to sense when the batteries are charged without overcharging them.
© 2004 Dana & Andy Dopleach info@bylandwaterandair.com Site Map