Books
Accommodation
Products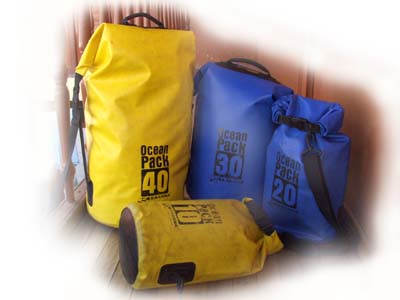 | | |
| --- | --- |
| Product: | Dry / Waterproof bags |
| Brand: | Karana Travelgear |
| Model: | Ocean Pack: 10L, 20L, 30L and 40L |
| Units tested: | 5 |
| Life span: | Still in use - purchased June 2003 |
| Rating: | 5/5 |
Favourite features of the Ocean Pack
Thick, reinforced, double layered plastic.
10 and 20 litre bags have shoulder strap attachments.
Durability - these bags have been cycled through France and Spain; hiked and bussed through Argentina, Chile, Peru and Ecuador. The 10 litre packs are starting to show signs of wear after a year of constant use: where they roll to be clipped shut the plastic is cracking, but all of the bags are still waterproof, all the clips are intact and functioning.
Disliked features of the Ocean Pack
The weight of the bags adds up quickly when hiking, though this is generally acceptable for their quality level.
Other features
The seal on the 10 and 20 litre bags is formed by rolling the top over on itself four times and then clipping the top into a circle, one side to the other. The 30 and 40 litre bags form a seal by rolling the top over four times and then clipping to points near the base of the bag, these can then be cinched down.
Care and Wear
The bags carry all of our water sensitive gear - including items with hard edges such as hard bound books and a power charger with an exposed plug.
The larger bags (30 L and 40 L) have always been packed within a backpack while traveling. These bags are filled at least once a week with hot water and laundry powder to soak and wash our clothing. Water sometimes leaks out of the bags during the soak time if the folded seal portion of the bag is wet prior to rolling.
The smaller bags (10 L and 20 L) have been strapped onto the outside of our bags, and thus dragged through everything from rainforest thickets in muddy western Patagonia to the rough handling techniques of bus attendants. They have suffered a bit of wear for these difficult environments and the 20 L bag (the one that holds our books and cameras) has what appeared to be holes on the outside - many were created when the bag was accidently dragged off the back of a flatbed truck. On a recent large volume laundry session, we used this bag and were surprised to find the `holes` are only in the outer layer - it is still completely water tight!
Test unit information
Purchase Date
June 2003
Vendor Location
Hat Noppharat Thara, Krabi, Thailand
Use time
Every day over lifespan
Lifespan
June 2003 - Still in use
Rating
5/5
Reason for rating
The function of the bags during our travels has been to protect our gear from water and wear. This they have done without flaw, and have even exceeded our expectations in durability.
© 2004 Dana & Andy Dopleach info@bylandwaterandair.com Site Map