Books
Accommodation
Products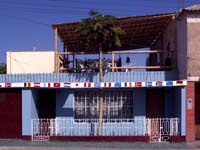 | | |
| --- | --- |
| Name: | Friends House hostel |
| Location: | Calle Juan Matta 712, Nazca, Peru |
| Price | S/.15-20 for 2 people |
| Owners: | Family run |
| Telephone: | 52 21 13 |
| Website: | NA |
Positive points of Friends House hostel
Clean
Hot water ( sometimes this needs to be requested, it then takes around 2 hours to heat )
Use of kitchen
New mattresses, very comfortable
No bed ends, great for tall people
Electrical sockets in all rooms
Shaded roof patio area with sofas and comfortable chairs
Free use of the gym opposite the hostel
Fairly central location, 2 blocks from the Plaza de Armas
Wardrobe/cupboard in every room
TV room
Negative points of Friends House hostel
Appalling customer service:

Arrived at our door on second day of 4 nights to say that the price would have to rise because we were staying more nights. They backed down.
Arrived at our door 2pm on 3rd day of 4 nights to tell us we would have to pay S/.10 extra because we didn't leave by noon.
We were told breakfast was included when we arrived, it is not.
We were told 1 hour of internet use per day is included when we arrived, it is not - see below list.

Incongruencies on their flyer:

No internet connection
No cafeteria, restaurant or bar
No tourist information office

Not all sheets fit the beds
No pillow cases - this could/will become a smelly hygiene problem
Can be quite noisy, the gym across the street plays extremely loud techno in the afternoons
Their 'tours' are highly overpriced. I would expect a hostel/hotel to markup a tour, but not by 40% and not accompanied by 'today is the start of the high season'. Price tours in the town rather than here.
Their only aim seems to be a Lonely Planet listing (they had only been open 20 days when we were there).
Local attractions and facilities
Nazca area sites

Nazca Lines
Cantallo aqueduct
Cerro Blanco - reportedly the highest sand dune in the world

Plentiful, overpriced restaurants
Good internet connections S/.1.50 p/hr
Souvenir shops etc
Our Verdict
This place is currently ( Jun 2004 ) one of the cheapest in town, they want to get people through so that they get a Lonely Planet listing - I have no doubt that the pricing will rocket if they do. The place is very clean and in good condition, their main problem is their insulting attitude to their customers. If they can change this, they will have an excellent product.
Received reviews
February 12, 2005 from Yves van Herck, Belgium

Had a very pleasant stay there. Good value for money. Felt at home there although, as stated, their tours are somewhat overpiced compared to local agencies. Overall an extremely good experience...
If you have had a different experience or have something to add please send us a mail
© 2004 Dana & Andy Dopleach info@bylandwaterandair.com Site Map